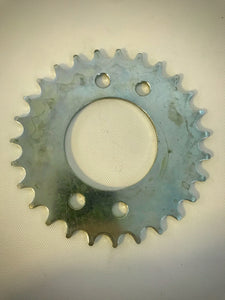 Axle Sprocket 27t- zinc coated steel
Precision Pedicab's  27 tooth zinc coated steel sprocket is designed to fit modern style peerless 100 series axles universally found on American made pedicabs.  This sprocket is ideal for use on a pedicab's rear pedal chain or it's motor chain.   For other speed or torque requirements,  30, 36, 38, 44 and 48 tooth sprockets are also available.
Teeth are beveled for smooth operation. 
Works with 1/8" single speed / BMX chain such as a KMC 510H as well as others