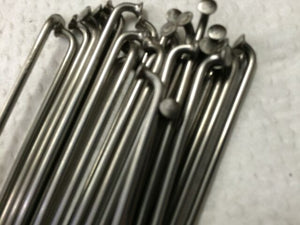 Spokes 258-260, DB 14/15
Silver (non-colored) stainless steel.  
The highest quality, Belgium made, double butted spokes.  These are made thickened on each end for extra added strength where needed, but extra stretch in the center keeps spokes tight even when a wheel deforms during the normal course of use. 
258-260mm lengths suitable for 4 cross pattern builds on Precision Thiccs, gens 1-3.
Includes nipple(s).  
Priced per unit.